Description
Aquasol Water Soluble Paper And Tape
About
Traditional purge systems present significant limitations as they are inefficient, costly, and labor-intensive. Additionally, conventional purge systems must be placed far from the weld zone (10-20 ft.) adding unnecessary inconvenience and costs to the welding process.
To overcome these limitations, Aquasol Water Soluble Paper and Tape were introduced. Together these components can be constructed by hand into unique purge dams. They are able to be placed within close proximity of the weld zone, thereby increasing efficiency of the entire welding process.
Aquasol Water Soluble Paper provides an excellent barrier used to retain noble gases such as argon and helium within the weld zone during TIG welding of stainless steel and aluminum pipes.
Comprised of sodium carboxyl methyl cellulose and wooden pulp, Aquasol Water Soluble Paper dissolves quickly and completely in most liquids, including water. Its 100% bio-degradable composition leaves no residue behind in the pipeline.
Aquasol Water Soluble Paper is available in a wide range of grades and sizes permitting the construction of purge dams for any pipe diameter. Extremely easy to store, non-toxic and environmentally friendly, Aquasol Water Soluble Paper is ideal for the nuclear, petrochemical, and food and beverage industries.
Features and Benefits
Low Air Permeable Purge Gas Barrier for Any Pipe Diameter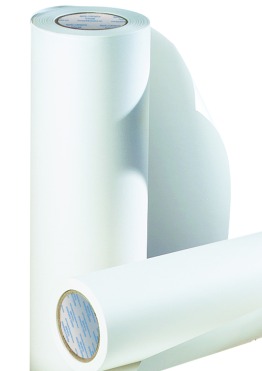 Creates excellent barrier for retaining noble gas

Simple and fast construction that can be customized to fit various pipe schedules and sizes

Saves money on gas consumption as paper can be placed in close proximity to the weld zone, thereby using less inert gas to displace oxygen in the purge chamber

Easily secures to inner pipe wall with use of Aquasol Water Soluble Tape, creating an air-tight seal
Biodegradable & Safe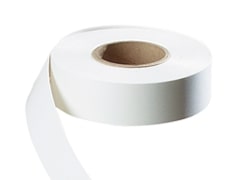 Made of sodium carboxy methyl cellulose & wooden pulp

EPA and CE approved

100% biodegradable

Safe and accepted choice by nuclear, petrochemical, food and beverage industries
Easy Removal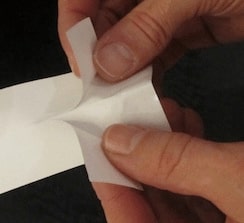 Dissolves effortlessly and rapidly during water or steam hydro-test

No residue remains in the pipeline
Convenient
Paper rolls are individually packaged for convenient storage and shipping

Available in a wide range of sizes, grades and forms permitting construction of any pipe diameter

EZ Peel available with 2 inch(5cm) Tape rolls for quick peeling of roll edge
How Aquasol Water Soluble Paper and Tape Work
Trace and Impress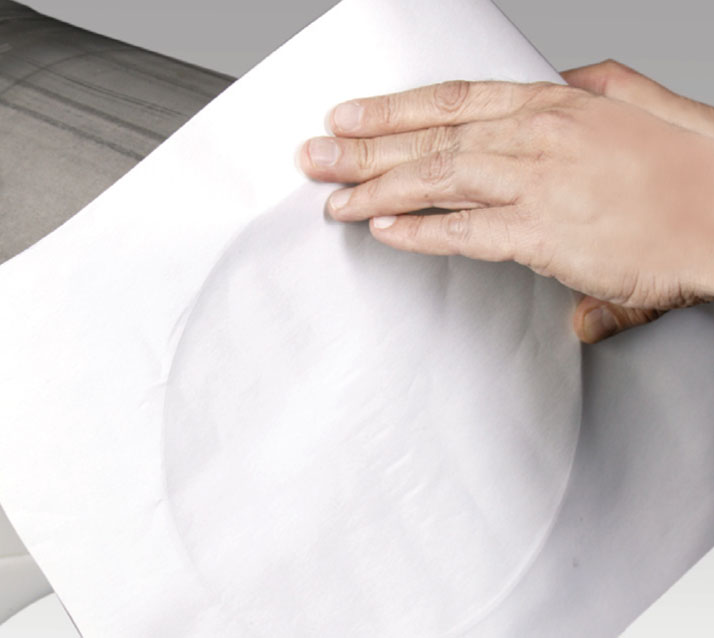 Trace pipe's inner diameter by pressing paper along pipe edge, creating an impression. Then fold to form a 90° angle.
Cut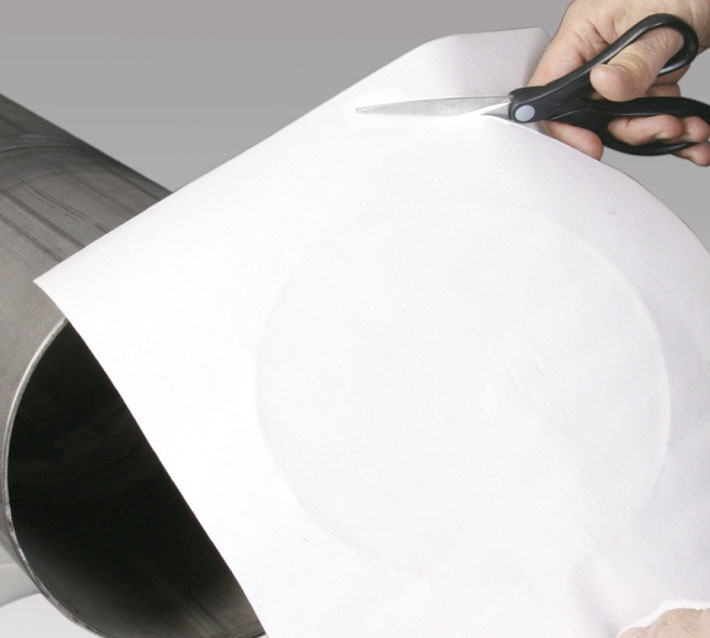 Cut in a circle around the impression, approximately one-third times greater than pipe diameter.
Slit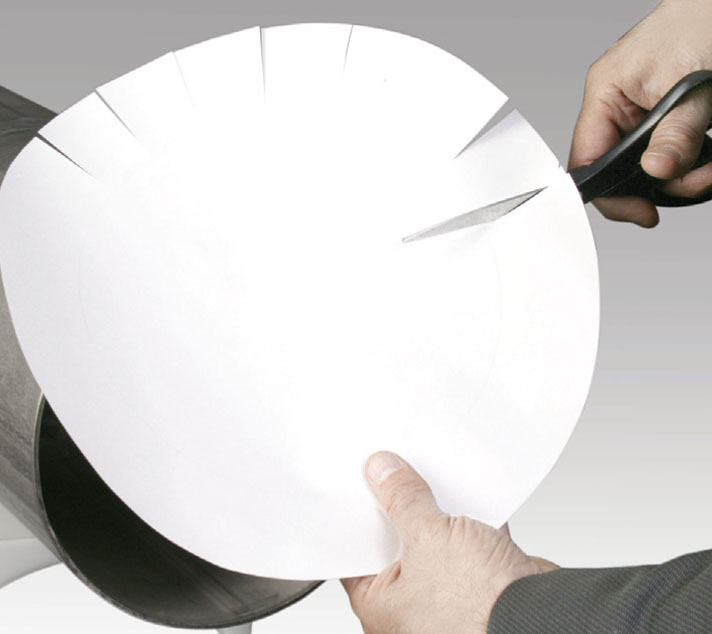 Slit approximately 1″ to 2″ segments perpendicular to impression on paper making first slit at 12 o'clock position followed by 3 o'clock, 6 o'clock and so on.
Position Inside Pipe and Tape in Place
Cut Aquasol Water Soluble Tape into pieces. Position slit Aquasol Water Soluble Paper dam inside pipe. Secure dam with tape pieces along the entire circumference.
ACTIVATE WATER SOLUBLE TAPE
Moisten Sponge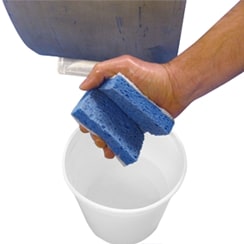 Moisten an ordinary sponge with water and squeeze out excess water until sponge is damp.
Lightly Dab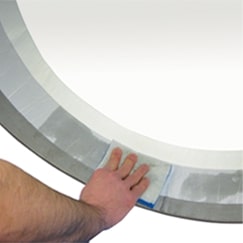 Lightly dab sponge along the water soluble tape portion of the dam. The dampened sponge will reactivate the adhesive to ensure low air permeability.
Repeat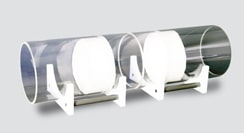 Repeat process on the opposite side of the pipe to close the purge chamber parameters.
Introduce Gas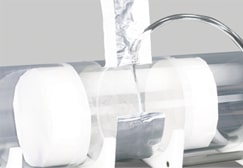 Insert purge gas needle into root gap and introduce noble gas, while ensuring connection to gas line.
Weld
Carry out the welding process.
Dissolve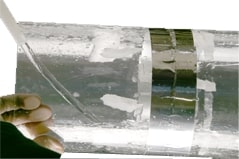 Dissolve Aquasol Water Soluble Paper and Tape by introducing water when performing hydro-test.
Types & Sizes
Aquasol Water Soluble Paper and Tape
Recommended Proximity to Weld Joint
PIPE DIAMETER

RECOMMENDED DISTANCE

English

Metric

English

Metric

2″ – 8″

51 – 203 mm

6″

152 mm

10″ – 22″

254 – 559 mm

8″

203 mm

24″ – 36″

610 – 914 mm

12″

305 mm
ITEM NO

THICKNESS

DIMENSIONS

TYPE

CASE PACK

English

Metric

ASW-35/S-11RW

.0035″

8 1/2″ x 11″

22 cm x 28 cm

Sheet

1000 sheets/ream

ASW-35/S-14R

.0035″

8 1/2" x 14"

216 mm x 355 mm

Sheet

500 sheets/ream

ASW-35/S-22R

.0035″

17″ x 22"

431 mm x 559 mm

Sheet

500 sheets/ream

ASW-60/S-22R

.0070″

15 1/2″ x 22"

394 mm x 559 mm

Sheet

250 sheets/ream

ASW-35/R-9

.0035″

9″ x 165′

23 cm x 50 m

Roll

4 rolls/case

ASW-35/R-15

.0035″

15 1/2″ x 165′

39 cm x 50 m

Roll

4 rolls/case

ASW-40C/R20.5

.0050″

20 1/2″ x 165′

52 cm x 50 m

Roll

4 rolls/case

ASW-60/R-15

.0070″

15 1/2″ x 165′

39 cm x 50 m

Roll

4 rolls/case

ASW-60/R-31

.0070″

31″ x 165′

79 cm x 50 m

Roll

4 rolls/case

ASWT-1

N/A

1″ x 300′

2.5 cm x 92 m

Roll

24 rolls/case

ASWT-2*

N/A

2″ x 300′

5 cm x 92 m

Roll

12 rolls/case
*Available with EZ Peel Release Liner
Selecting the Proper Grade
| | |
| --- | --- |
| ASW-35 | Use for pipes having 4″ inner diameter or less |
| ASW-40C | Use for greater gas retention |
| ASW-60 | Use for pipes having 4″ inner diameter or greater |
| ASWT | Use to secure Aquasol Water Soluble Dam in place |
Khang Dong Nam Company specializes in supplying and distributing products of Aquasol Water Soluble Paper And Tape in Vung Tau and all over Vietnam with high quality and reasonable price. Contact us when you need to buy products or you have any requests for product information